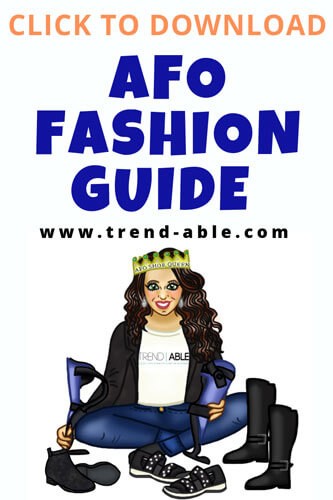 I think she's my new hero.
https://trend-able.com/blog/
BORED? BUY SHOES.
With President extending the stay-at-home request for our nation, I have decided to extend my personal MS Awareness campaign. Actually, I really didn't need an excuse since my MS isn't going anywhere.
While I have been adjusting to my new reality since 2001, COVID19 presents an entirely new chapter to the journey of many MS Warriors. We are already self- isolation professionals. That, of course, doesn't make us immune to the horrors of this global pandemic; but it does raise alarms on credit card bills. (Didn't expect that turn of events, did ya?)
If you follow me at all, you're privy to my ongoing quest to find acceptable shoe wear to accommodate my AFO. You know of my ever-growing Converse All-Star collection and the issues with weather-related challenges they face. You're also aware of the expenses mounting with my ongoing internet shoe purchases. Fortunately, I have been allowed to return those shoes that don't work for me.
I have not lost my enthusiasm for unearthing the perfect shoe, though. https://trend-able.com/blog/ is a wonderful blog to find shoe suggestions. Although Ardra over at https://trippingonair.com/about-me does not wear an AFO, she is a terrific resource for finding the answers to many many accessory questions. She'll help you spend some money $$$
Looking for shoes may not be your current concern. I mean, it'slike purchasing a car right now. No one's supposed to go anywhere, so why bother looking for transportation or shoes?
If shopping isn't on your list of interests, look at these other MSWarrio blogs (There are SO many more out there.) to connect with others like us.
https://laughoryoullcry.com/about/
https://ashleyslifewithms.wordpress.com/about/
https://ms-understood.com/
https://climbingdownhill.wordpress.com/
https://stuffcouldalwaysbeworse.blogspot.com/
I could go on for a long time, but then you'd have no time to red about other MS Warriors isolation ideas.
We'll talk about yarn tomorrow.
See you then!
Stay safe. Stay well. Stay home.
Lisa
Order from me to receive free shipping, a bit of MS bling, and a special price.
lisaannettemccombs@yahoo.com
https://www.amazon.com/Have-Whats-Your-Super-Power/dp/1882658442/ref=sr_1_fkmrnull_1?keywords=i+have+ms.+what%27s+your+superpower&qid=1556457191&s=gateway&sr=8-1-fkmrnull