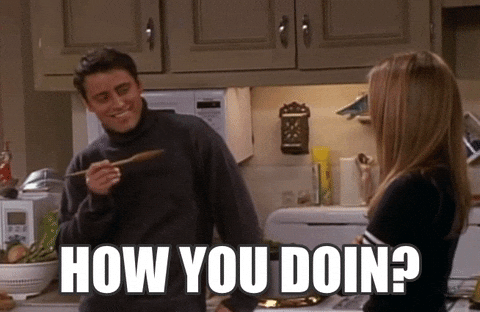 It is not such a bad thing to be asked. In fact, it is a polite courtesy in the Miss Manners etiquette we all taught early in life. so, why does it make us feel so weird?
So, I walk with the assistance of a cane. Big deal. Maybe it's a fashion statement. Maybe I just like canes. Maybe it's one of your business.
Okay, that is rather rude.
It is also rather rude to pose that question when you really do not want to hear the reply. I think that is the major issue here. Because if we warriors really opened up and gave an honest response to that inquiry our already limited friend base would quickly diminish even further. I mean, do they really, really want to be told about the number of falls experienced in a typical day? The urgency of our bladder situation? The embarrassment of eating in public with numbed fingers? The disappointment of missing a social event because of fatigue? The feeling of being a burden on your family?
Answer: No, no, no, no, and no.
Of course, me being nonverbal me, I rarely get caught up in how to respond to the question. I simply reply, "I'm well. And you?"
A dear friend once told me that I have a particularly intimidating expression that often warns away predators. I have never figured out what that expression is nor did it ever work for me during my teaching years. Students obliviously are immune.
Because I rarely have the opportunity to voice my opinion on things, I have to believe this expression exists, though. I am usually the blob in the background of most conversations. When I open my mouth to contribute, someone else's voice is heard and I am left with my silent thoughts as if my existence is as hidden as my thoughts.
I have found, though, that an easy way to avoid an insincere inquiry as to my well being is to jump the gun. Ask the second party first. Smile and briefly comment and steer the dialogue elsewhere. Or just simply smile and nod, encouraging their story. Because, they always have a story. (Did you catch that sarcasm?)
Joey did it best...How you doin?
I hope you took the time to scroll through the (plagiarized) articles in my previous post. Although the headline really caught my attention, becoming the initial focus of Wednesday's blog post, I strongly identified with ALL the articles.
Of particular interest is the interest in a specialized workout space for those of us with neurological issues. We have a very nice facility where I live, and I have visited it often, but my insurance does not cover the cost so my visits are rare. Oh, and my Wii exercise board died so my avatar exercise friend and I no longer meet. (Did you hear that, Santa? I want a Wii exercise board for Christmas!) I do not mind exercising solo and, if you now me, you are aware of my many video exercise classes. But sometimes, it is just too much effort to insert selected exercise option and push the "on" button. Understand? Been there? Like right now. I could be twisting my body an assortment of Yoga poses, but, no, I am instead conversing with you while mentally planning my day. Call me Ms. Multitask-er. That's me.
Think I'll hit the mall this morning.
If you do not receive this MS newsletter, I strongly suggest that you subscribe. It is a free service and full of very valuable information.
Have a great weekend.
Oh, and if you are looking for a great and unique gift idea ( 'tis the season), do not forget to investigate my assortment of personalized books. Yep, I will sign them and pay for the postage. Just drop me a line, include your address (pm) and I will get those out to you!
Bombs Bursting in Air
first place winning novel West Virginia Writers Inc.
This is my latest young adult novel that focuses on the effects of PTSD in a young girls who looses her father.
Abby,$15.00
Raspberry Beret, $11.00
Opening Pandora's Box, $11.00
This trilogy represents my first published works. All focused on a young girl, Abby, who is finding her way in this weird world of inconsistencies.
Internationally award nonfiction. Common sense guide to living with multiple sclerosis. It's funny. It's painful. It's true.
I Have MS. What's Your Super Power?, $12.00
Want them all? Let me make you a deal. LisaAnnetteMcCombs@yahoo.com